Assessment of Articulation, Voice, and Fluency
Articulation/Phonology, Voice, and Fluency Assessment
Assessment of Sound Awareness and Production (ASAP) Kit and Multicultural CD
(#40441-IN)
Use this battery to assess phonological awareness, use of phonological processes, and production of speech sounds. The CD includes forms for multiculural student populations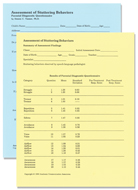 Assessment of Stuttering Behaviors - COMPLETE KIT
(#4928-IN)
Dennis C. Tanner
Here is a practical assessment tool that can be used to collect information about a child's speech fluency at school and at home.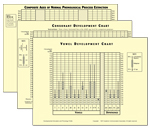 Developmental Articulation and Phonology Profile (DAPP)
(#46671-IN)
Dennis Tanner, W. Culbertson, and W. Secord
Ages 3 and up. The revised edition of this popular profile allows speech-language pathologists to chart phonemes relative to frequency of occurrence and to developmental age.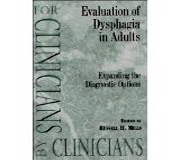 Evaluation of Dysphagia in Adults
(28864-IN7)
Russell Mills
This comprehensive volume provides detailed information about the assessment of swallowing disorders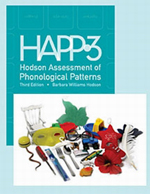 Hodson Assessment of Phonological Patterns (HAPP-3) - COMPLETE KIT
(#21055-IN)
Barbara Williams Hodson
Ages 3 and up. This instrument is a revised, expanded edition of the Assessment of Phonological Processes.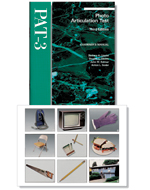 Photo Articulation Test (PAT-3) - COMPLETE KIT
(#2238-IN)
B. Lipke, S. Dickey, J. Selmar, and A. Soder
The PAT-3 is used to assess production of consonants, vowels, and diphthongs. Full-color pictures are included in the manual and in a separate card deck.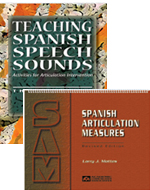 Spanish Articulation Measures (SAM) PLUS Teaching Spanish Speech Sounds - Save $5.00
(4913146101-IN)
Save money on the book Teaching Spanish Speech Sounds when you order it at the same time as Spanish Articulation Measures.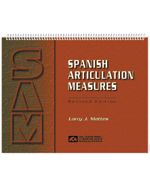 Spanish Articulation Measures (SAM)- COMPLETE KIT INCLUDES MANUAL AND 50 FORMS
(#49131-IN)
Larry J. Mattes
Ages 3 and up. This instrument can be used to assess consonant production and use of phonological processes in Spanish.
Spanish Articulation Measures - CD only
(#49131CD-IN)
This CD includes reproducible assessment forms from the SAM manual PLUS supplemental assessment resources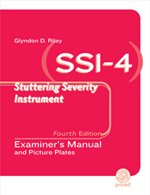 Stuttering Severity Instrument for Children and Adults (SSI-4)
(#26720-IN)
Glyndon Riley Ages 2 years, 10 months and up. Here is an easy-to-use test for the assessment of speech fluency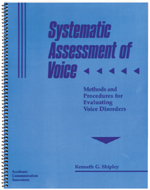 Systematic Assessment of Voice
(#4925-IN)
Kenneth G. Shipley
This comprehensive inventory can be used to assess a wide range of voice disorders in children or adults.